Digital Humanities
Unique expertise and know-how in Digital Humanities
Tero is a small yet diverse company where there is always a flux of development. In contrast to other actors established in the area of digital or e-humanities who build on a long and strong tradition in discipline-focussed humanities research, in Tero we have the opportunity and the luxury to exploit an open research area available for synergies amongst the different disciplines and specialisations of humanities through the collaboration with academics, researchers and industry practitioners.
In Tero we embrace a triple approach:
With our technologies we enable the emergence of new types and instances of humanities research that relate to the digital age and to how technologies, networks and social media are changing the way people behave, think, interact, socialise, and contribute to understanding the nature and consequences of these changes in order to shape the future.
We make use of best of breed and advanced IT methodologies, tools and instruments such as semantic technologies, ontologies, NLP and big data analytics to support "classical" humanities research and applications.
We foster the growth of interdisciplinary approaches within the various fields of humanities with the potential to help bring new and innovative products and services to the European market.
Superfusing the growth potential in the area of digital humanities
Our starting point for our involvement in the area is that Humanities and their interdisciplinary interactions will be a key source of innovation and economic growth for Europe. We invest on tightly interwoven and cross-disciplinary synergies. This is indicative of how we expect digital humanities skills to lead to significant economic growth when fused with technological skills.
At Tero we conceptualised, designed and led the BlogForever project funded by the European Commission.
BlogForever has been for us a flagship project that has endowed us with a portfolio of technologies and a solutions suite. It also helped us come to the idea of establishing links with "fused" and "superfused" companies and start-ups that will integrate humanities with technical competences expected to generate high growth rates, thus helping move away from thinking that Humanities are a luxury subsidised by the economic growth generated by natural sciences and engineering. Quite the opposite, we firmly see the opportunity for Humanities, similar to the Arts, to become a major part of the European economy capable to increase tremendously employment and self-employment for several hundred thousands of researchers, scientists and professionals.
TERO as a partner to help you realise your digital strategy
Whether you are a memory institution or a culture organisation, an academic or research centre or a company, our aim is to support you offering the following services:
joint management of research service provision and pooling of distributed resources amongst collaborating partners and disciplines;
dissemination and/or exploitation of results and knowledge with the aim to reinforce partnership with other humanities stakeholders as well as outreach and dissemination activities;
help you strengthen virtual research communities amongst humanities researchers of other national Universities as well as from abroad;
development, maintenance and spreading of common best practices, standards and protocols;
promotion of clustering and coordinated actions amongst related projects in the area of digital humanities in Europe and internationally; and
coordination with national or international related initiatives and support to the deployment of global and sustainable approaches in the field.
What BlogForever was about
In BlogForever we delivered theoretical and applied research which can be grouped into three main conceptual categories: a) extensive study of the blogs, which are the objects of preservation, b) methods and practices of preservation, and, c) development of the BlogForever platform as well as the policies which are required for its deployment and use.
BlogForever enables organisations interested in web archiving (mainly Memory Institutions, governments, businesses and researchers) to either create their own blog archiving centre or to create collections of blog archives through an online user friendly service.
Which technology assets we developed
In BlogForever we developed a solution capable of performing an intelligent harvesting operation which retrieves and parses hypertext as well as all other associated content (images, linked files, etc.) from blogs. It copies content by interrogating not only the RSS feed of a blog, but also by copying data from the original HTML. The parsing action is able to render the captured content into structured data, expressed in XML; it does this in accordance with the project's data model.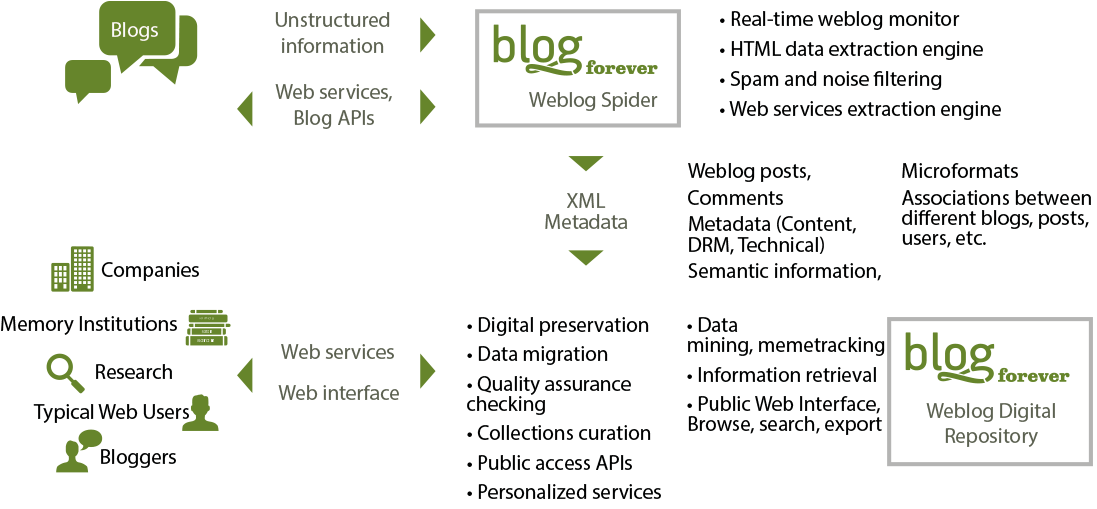 The result of this action is carving semantic entities out of blog content on an unprecedented micro-level. Author names, comments, subjects, tags, categories, dates, links, and many other elements are expressed within a hierarchical structure. This content is imported into the BlogForever repository (based on CERN's Invenio platform), a public-facing web archiving mechanism which provides facilities to preserve, view, interrogate & reuse the content to an unprecedented degree of detail.
Achievements we are proud of at Tero
Our achievements cover three dimensions:
They are "thematic", addressing specific scientific, research or application domains such as Art history and visual culture, Languages and Cultures, Modern Literature and Media Semiotics, Empirical Social Sciences, Legal Studies such as Public Law, Security Law and Internet Law, as well as Computer-mediated Communication.
They are "transversal" in terms of re-mediating the particular addressed thematic field and core aspects of its nature, e.g. by offering new unexpected and innovative ways to approach it through novel algorithms, analytics or numerical methods, etc.
They are "challenge-driven", addressing novel phenomena related to the Digital Age exploring the two-way interactions between technology and humanities in order to lay foundations for future thinking.
Partnerships
Aristotle University of Thessaloniki
CERN
Dotsoft S.A.
University of Passau
University of Warwick

Please don't hesitate to contact us, or browse our web site for further information.